Discover more from Startup Pirate by Alex Alexakis
Join 5,000+ readers to explore what matters in tech and startups. Made in Greece.
Over 5,000 subscribers
Hunting Greek Unicorns #8
Startups transforming enterprise tech & infrastructure, five funding announcements, jobs, news and more
I hope this email finds you well. Welcome to Hunting Greek Unicorns #8. I'm a startup guy based out of Greece, and every two weeks I will share news, jobs and more from the Greek startup ecosystem, and not only.
If you find this newsletter interesting, consider sharing with your friends or subscribing if you haven't already.
---
💻 Startups transforming the
enterprise tech & infrastructure space
Enterprise technology and infrastructure is booming globally with many high-growth and high-valuation companies. In Greece, the sector is on the rise as well, having several promising startups that have raised over $85M in funding from notable VCs across the world, currently employing over 325 people and venturing in areas such as data management & operations, analytics, IoT, cybersecurity, hardware accelerators, and many more.
Below you can find a list with 16 Greek enterprise tech & infrastructure startups.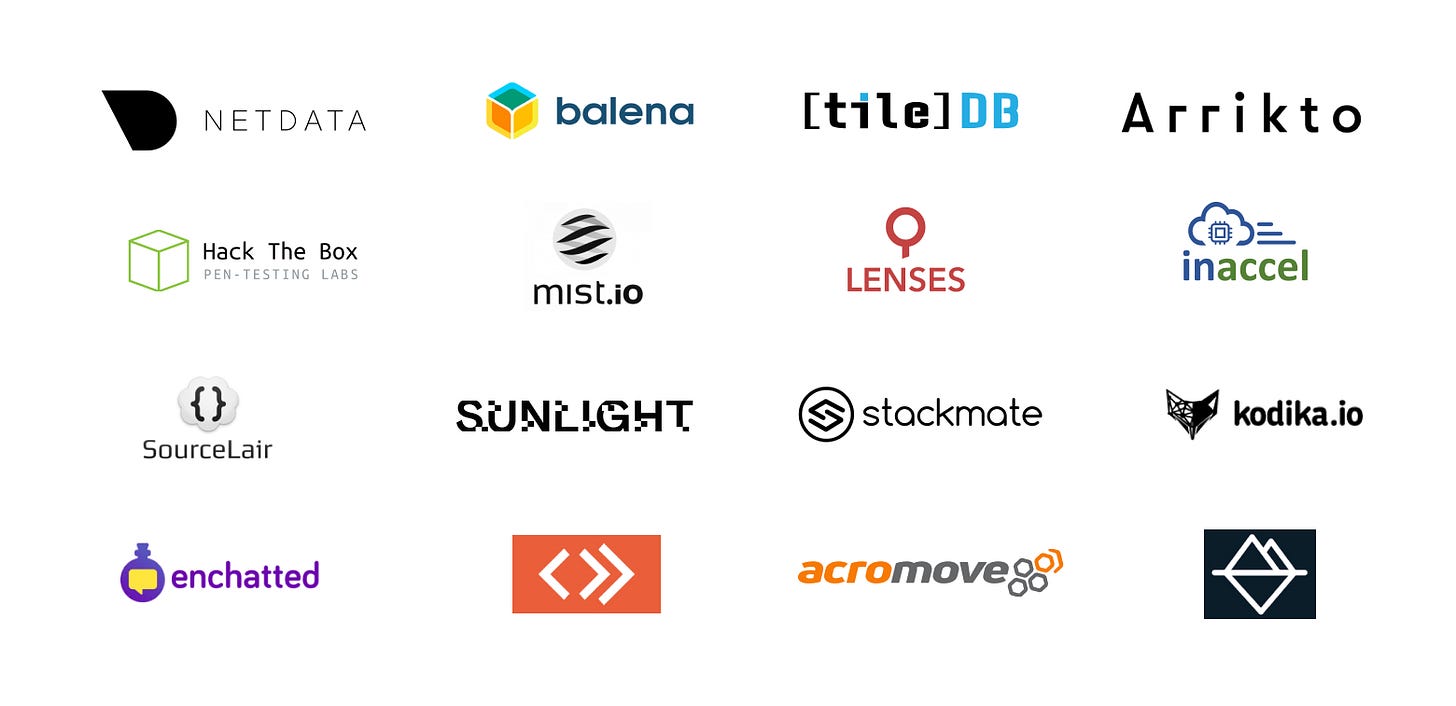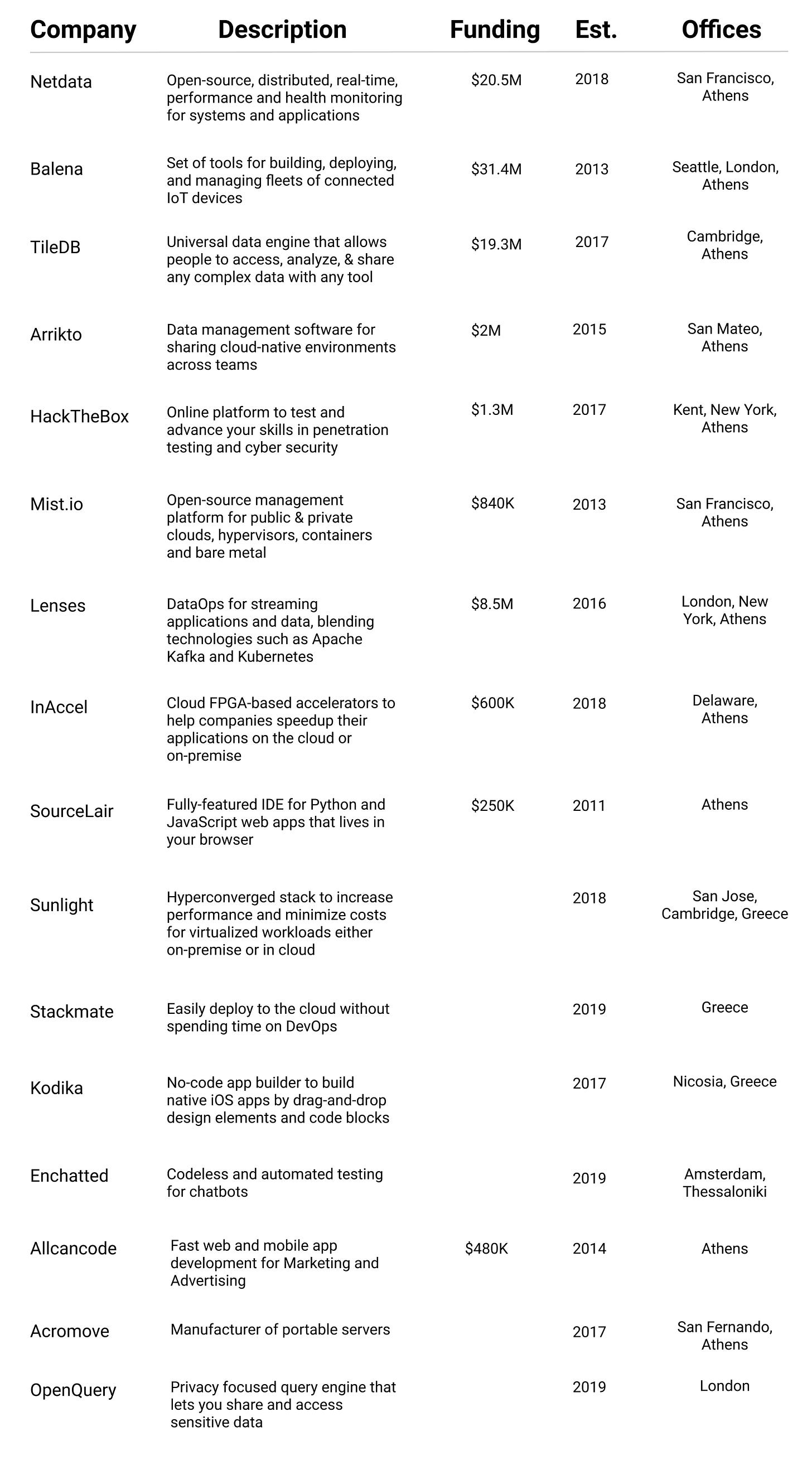 Disclaimer: The list is by no means exhaustive. All companies except OpenQuery have operations in Greece e.g. offices/team or investors. OpenQuery is a Greek team based in the UK. Funding information and number of employees were gathered from public online sources and for companies that haven't publicly disclosed their funding amount or are bootstrapped the equivalent field is blank.
---
🦄 Startup Jobs
Greek startups are hiring! Here are some of the latest job opportunities:
B2B Wave - Senior Ruby on Rails Developer (Athens) - Apply here
ContactPigeon - Sales Development Representative (Athens) - Apply here
Douleutaras - Performance Marketing Specialist (Athens) - Apply here
InstaShop - Web Developer (Thessaloniki) - Apply here
Mobito - Full Stack Engineer (Athens) - Apply here
Navenio - Python Developer (Remote) - Apply here
Plum - KYC/Compliance Agent (Athens) - Apply here
Pollfish - Product Owner (Athens) - Apply here
Signal Ocean - Technical Product Manager (Athens) - Apply here
Tendertec - Machine/Deep Learning Engineer (Athens) - Apply here
Useberry - Full Stack Developer (Athens) - Apply here
---
🗞️ News
Five funding rounds were announced the past two weeks 🚀 Yes, you read it right! Two of them >= $10M.
TileDB announced a $15M Series A round led by Two Bear Capital, joined by Uncorrelated Ventures and all existing investors, including Big Pi Ventures, to expand go-to-market & product development for its universal data engine and empower data professionals to focus more on science and less on engineering.
Plum raised a new funding round of $10M led by Japan's Global Brain, the European Bank for Research & Development and participation from VentureFriends. The team plans to launch in Spain, France & scale up to 80 employees by the end of the year.
LangAware, a healthcare startup that uses AI to predict neurodegenerative diseases such as Alzheimer through biomarkers based on language and speech raised a seed round from Metavallon.
Prosperty, a proptech startup founded in 2020 with operations in Athens and Thessaloniki, raised a €1.1M seed funding round from VelocityPartners, Metavallon & angels.
Vendora, a C2C classified ads platform for the Greek market, founded by Robin Schuil (former CTO of a similar Dutch platform acquired by eBay), announced its second funding round to further grow & expand the team in Athens.
A brief look into the Greek startup ecosystem exploring the current level of maturity compared to some years ago, the interest from foreign funds and the increased number of companies with valuations > 100M. A long way to go, but there is every reason to be optimistic.
Demo Day of EIT Digital Venture Program by Foundation with 8 teams from Greece, Bulgaria, Romania. Greek teams were Captain Coach (smart home assistant), Loopcv (HR tech), Oliveex (IoT for food), Ozzie (robot for elders), RevApp (revenue optimization for hotels) and Roofrate (proptech). More details found here.
The winners of this year's MITEF Greece Startup Competition were ResQ Biotech (treat protein-misfolding diseases), HOMI (proptech), Syndeseas (maritime), and The SARM Project (energy). More details found here.
Applications for CapsuleT Accelerator, an accelerator for the tourism industry, are now open until the 13th of August, as well as applications for the Innovation & Technology competition by NBG Business Seeds, until the 8th of October.
Geekbot launched Focus Mode, a simple tool to eliminate distractions on Slack and set yourself to focus based on the Pomodoro technique and ranked #3 in the products of the day on ProductHunt.
---
💭 Reading or listening
Curious what OpenAI's GPT-3 thinks about Greek startups? Check out this tweet.
Two Greek indie hackers, Jim Zarkadas and Jim Raptis, sharing lessons learnt through their journeys building bootstrapped products. Link1, Link2.
Costa Tsaousis, founder & CEO at Netdata, talking about the things he learnt from his experience creating Netdata out of frustration.
Myrto Papathanou, Partner at Metavallon, discussed about what led her to the VC industry, Metavallon's investment philosophy & the most important steps for the local startup ecosystem to further develop.
A post by Zaharenia Atzitzikaki, VP Design at Workable, on how to become a more inclusive leader.
Ted Leonsis, a Greek-American entrepreneur and investor reflected on his 45 years in the tech industry from east to west coast in the US, meeting some of the most notable people in the space.
Can you measure engineering productivity? A hot question answered by Gergely Orosz, Engineering Manager at Uber.
Interesting post on product development by John Cutler, Head of Product Research & Education at Amplitude, deep diving on team velocity, feature factories, optimising for busyness, planning & estimates and why many teams focus on the wrong things.
Loved this 50' chat between Chamath Palihapitiya, founder & CEO at Social Capital, and Harry Stebbings, investor & creator of The Twenty Minute VC podcast. Some highlights: most forecasting is worthless, hiring for integrity not capability, lessons on investor psychology & inaction, why IPOs are broken, kids as your reflection & more.
---
I'd love to get your thoughts and feedback on Twitter or Facebook.
Stay safe and sane,
Greek Startup Pirate 👋