Discover more from Startup Pirate by Alex Alexakis
Join 5,000+ readers to explore what matters in tech and startups. Made in Greece.
Over 5,000 subscribers
Hunting Greek Unicorns #6
Greek startups accelerating the disruption of healthcare, jobs, news and more
I hope this email finds you in good health. Welcome to Hunting Greek Unicorns #6. I'm a startup guy based out of Greece, and every two weeks I will share news, jobs and more from the Greek startup ecosystem, and not only.
If you find this newsletter interesting, consider sharing with your friends or subscribing if you haven't already.
---
⚕️Startups accelerating the disruption of healthcare
It is not an overstatement to say that many Greek startups are pushing the boundaries of healthcare and contributing to its disruption. While researching the space, I was glad to see promising startups hailing from Greece and venturing in fields such as telemedicine, predictive diagnostics, drug discovery with AI, genomics and more. In addition, there has been rapid progress the past months due to COVID-19.
I have created a list of 39 Greek healthcare startups which are presented below.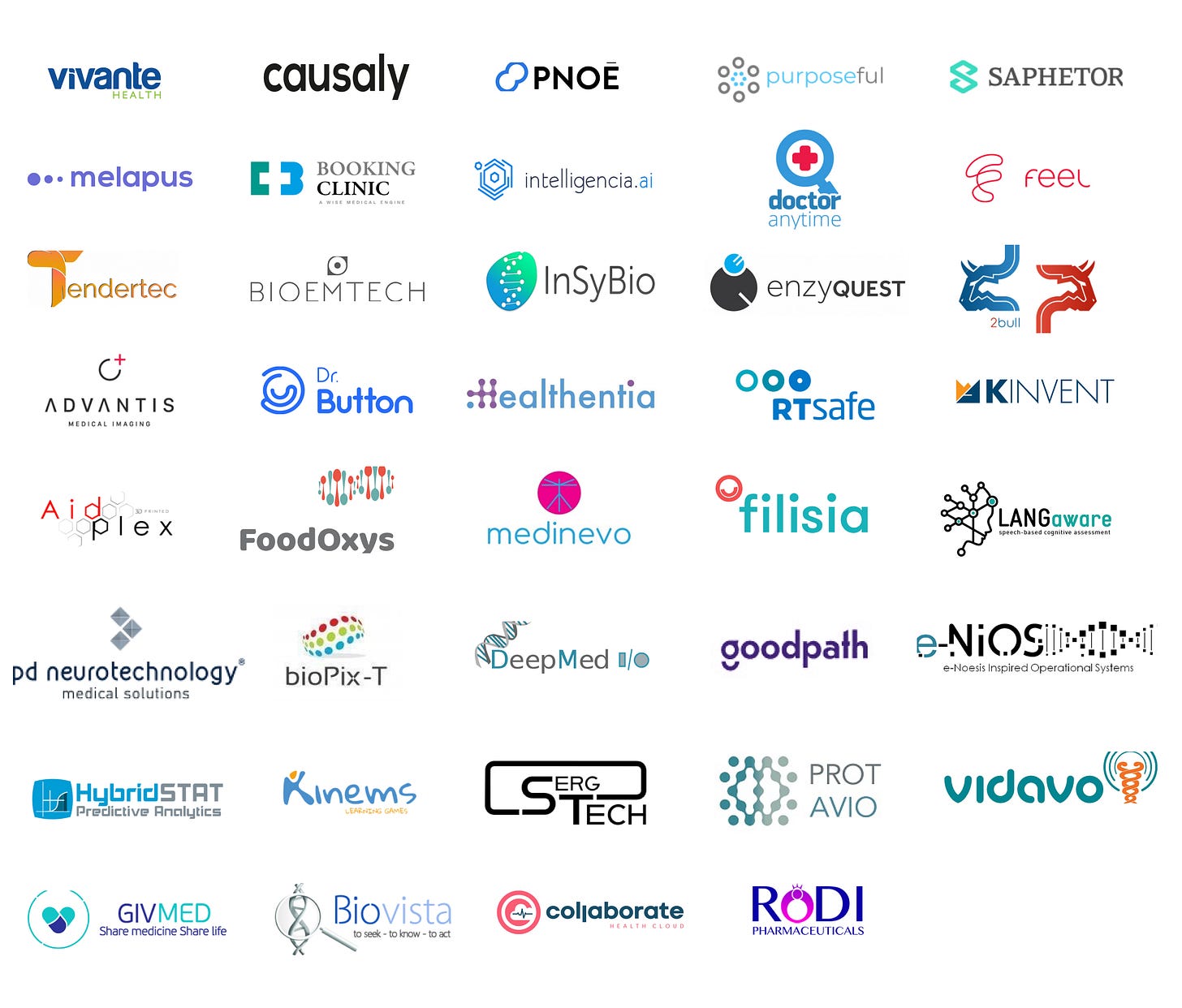 Disclaimer: The list is by no means exhaustive. I haven't added companies with Greek founders, but no operations in the country e.g. offices, team, investors, etc. Funding information was gathered from public online sources and for companies that haven't publicly disclosed their funding amount or are bootstrapped the equivalent field is blank.
---
🦄 Startup jobs
Greek startups are hiring! Here are some of the latest job opportunities:
DeepSea Technologies - Technical Writer (Athens) - Apply here
Epignosis - IT Administrator (Athens) - Apply here
Found.ation - Marketing & Communications Specialist (Athens) - Apply here
Hack The Box - Growth Marketing Associate (Athens) - Apply here
OilX - Senior Data Engineer (Athens) - Apply here
Orfium - Data Engineer (Athens) - Apply here
ParkAround - UI/UX Designer (Athens) - Apply here
Pollfish - Customer Support Representative (Remote) - Apply here
Sentio Solutions - DevOps Engineer (Athens) - Apply here
Signal - Data Scientist (Athens) - Apply here
Spitogatos - Software Engineer in Test (Athens) - Apply here
Wappier - Presales Manager (Athens) - Apply here
Workable - Junior Operations Engineer (Remote) - Apply here
---
🗞️
News
Uni.Fund invested €400K in EnzyQuest, a startup headquartered in the Scientific and Technological Park of Crete and established in 2019 with the aim to develop enzymes & reagents used in research methods in biotech. Press release by Uni.Fund here.
Even post-lockdown, the eCommerce sector in Greece shows signs of significant growth. May 2020 was 107% higher vs May 2019 according to a report by Greek eCommerce Association and data from Skroutz, BestPrice and Convert Group.
According to NomadList, Athens is #5 in the list of fastest growing hubs for digital nomads the past five years.
VisualEyes launched Above the Fold, a new plugin for designers that want to check which part of their designs will be visible in a browser window. The tool was featured on Sketch's latest newsletter update.
VentureFriends celebrated 4 years of investing & supporting startups with a nice infographic and here are their highlights so far: €46.7M invested, 32 startups & 81 founders, investment allocated: 36% proptech, 23% marketplaces, 14% fintech.
The second program of CapsuleT, a startup accelerator for the tourism industry came to an end. You can find the winning teams here.
Athens Center for Entrepreneurship and Innovation, in collaboration with Nestle, organise Ignite Ideas, a 3-months acceleration program for startups. Submissions' deadline is on the 30th of June.
Orange Grove has opened the application for its remote 6-month incubation programme starting in Autumn 2020.
---
💭 Reading or listening
A review of the contribution of EquiFund to the Greek startup ecosystem so far with interviews with four funds: BigPi Ventures, Metavallon, Uni.Fund, Velocity.Partners.
George Hadjigeorgiou, co-founder & CEO of Skroutz, talks about the path to seniority in software engineering.
An interview with Alexandros Trimis, co-founder & CEO of WelcomePickups, about the launch of GoSafe and the effect the pandemic had on their core business and the tourism industry.
Two interesting posts (link1, link2) on becoming a people manager. Zaharenia Atzitzikaki, VP Design at Workable, on working towards a promotion to a managerial position, and Petros Amiridis, co-founder & CEO of HeavyMelon, on things you should expect to engage with when moving to a people manager role.
A brief look into five spin-offs from Greek universities and research centres: CYRUS, PLiN, EnzyQuest, Nanoplasmas, FoodOxys.
Netdata highlighted in a post about the rise of Open Source software in Europe by Andrei Brasoveanu, Partner at Accel. The OSS landscape has never been stronger.
A 1.5hrs podcast on running product teams with Maria Arnaoutaki, Senior Product Manager at Spotify, Maya Toutountzi, Head of Product Management at Transifex and Konstantinos Vasileiou, Senior Product Manager at Workable.
Marc Andreessen, General Partner at a16z, discussed about productivity, how he spends his time, learning, reading, his "time to build" essay and more.
Loved this post by Polina Marinova on quitting her job at Fortune to venture full-time on her media company The Profile.
It may seem insane to quit a great job during a global pandemic that could unleash one of the greatest economic downturns of our lifetime. But you know what's not insane? Independence. There is no better feeling than the freedom to decide what you work on, how you spend your time, and who you do business with.
---
I'd love to get your thoughts and feedback on Twitter.
Stay safe and sane,
Greek Startup Pirate 👋