Discover more from Startup Pirate by Alex Alexakis
Join 5,000+ readers to explore what matters in tech and startups. Made in Greece.
Over 5,000 subscribers
Hunting Greek Unicorns #4
Greek VCs in the COVID era, Softomotive & Blendo exits, jobs and more
I hope this email finds you in good health. Welcome to Hunting Greek Unicorns #4. I'm a startup guy based out of Greece, and every two weeks I will share news, jobs and more from the Greek startup ecosystem, and not only.
If you find this newsletter interesting, consider sharing with your friends or subscribing if you aren't already.
---
💰 Greek VCs on fundraising, investing & supporting portfolio companies in the COVID era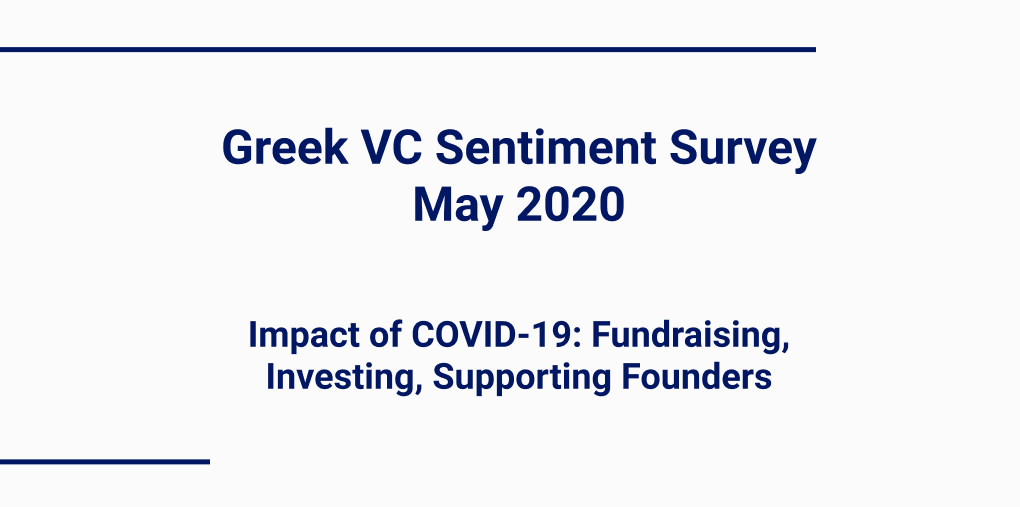 In such an uncertain period for many startups it would be interesting to get an understanding of how VCs are responding; whether they have changed investing and fundraising strategies and how they are supporting portfolio companies. I reached out to venture capital partners at 5 prominent early-stage funds in Greece to get a gauge for investing and industry sentiment.
Raising Capital From LPs
Of those surveyed:
4 are not actively raising a new fund

1 is currently fundraising
Most funds are optimistic that their ability to fundraise in the future will not be impacted due to the current crisis. There was one fund claiming it will be easier to raise their next fund, and another one that said it will be harder.

In regards to the feedback they get from LPs, there are mixed signals. There definitely seems to be some kind of concerns and hesitation according to 3 out of 5 respondents:
For the asset class on hold, the general sentiment is negative for the next two quarters (Q3-Q4).

There is risk aversion amongst the LPs.

Some LPs are reluctant to disburse capital in the next few months, nevertheless most are OK to do so.
While for the rest, things look more optimistic:
Our LPs are happy given the performance and resilience of our portfolio companies. Some are urging us to keep our holding for a longer term.

They see great opportunities ahead. It's time to create stuff!
Investing in Startups
On capital deployment, funds expect to either increase or keep at previous levels without any slow downs.
Also, 3 out of 5 funds are going to do more follow-on investments in the future, as they are keeping "gunpowder" to further support existing portfolio companies.

It was interesting to see that most of them are not planning to shift their focus on new sectors due to the COVID crisis.

For the fund that is looking into new industries the following categories came up:
Education Technology

Creative Media

Future of Work
All respondents seem to agree there is currently a drop in the valuations founders ask for, ranging from 1%-10% for one fund, 11%-20% for two funds and 21%-30% for another two funds.

Supporting Portfolio Companies
Compared to the pre-COVID era and where they are focusing their time more now, all partners are working more with portfolio companies, three of them evaluating new deals, two spending more time on community/thought leadership and one on internal firm initiatives.

Diving a bit deeper on how they support portfolio companies differently, the areas mentioned were:
Business development

Partnership development

Cost containment

Business model changes

"Survival" lessons learnt

Merger & Acquisition options

Advising them to stay focused
Finally, regarding their recommendations to founders on fundraising outreach, delaying outreach and avoiding cold email/call were the most popular answers.

One partner also advises founders to proceed with:
Smaller & faster internal rounds to provide liquidity for extra 9-12 months.
---
🦄 Startup Jobs
Greek startups are hiring! Here are some of the latest job opportunities:
eFood - Software Engineer (Athens) - Apply here
Epignosis - Product Manager (Athens) - Apply here
Hack The Box - Senior Business Development Representative (Athens) - Apply here
LANGaware - Senior Machine Learning Engineer (Athens) - Apply here
Omilia - Software Development Operations Analyst/ Process Manager (Athens) - Apply here
Orfium - Machine Learning/DL Engineer - Audio Recognition (Athens) - Apply here
PeoplePerHour - Data Scientist (Athens) - Apply here
Pockee - Operations lead (Athens) - Apply here
Seafair - Full Stack Software Engineer (Athens) - Apply here
Sentio Solutions - Full Stack Engineer (Athens) - Apply here
Skroutz - Security Engineer - Platform (Athens) - Apply here
SomewhereWarm - Support & Test Engineer (Remote) - Apply here
Spotawheel - Financial Accounting & Controlling Manager (Athens) - Apply here
Tekmon - Backend Software Developer (PHP) (Ioannina) - Apply here
You can also find some jobs in a more detailed list - 226 Jobs From 64 Greek Startups, which I created couple weeks ago here (so it might be a bit outdated already).
---
🗞️
News
Highlight of the past weeks was the exit of Softomotive to Microsoft. Although details were not disclosed, it's considered to be one of the largest (if not the largest) acquisition for a Greek startup to date. Really exciting news, especially as it's coming less than a month after another exit to a NASDAQ company, that of Think Silicon to Applied Materials. Softomotive was founded in 2005 and has about 9,000 customers around the world. Its desktop automation tools will join forces together with Microsoft's Power Automate. You can see the announcement from the company's CEO, Marios Stavropoulos, here.
Blendo was acquired by RudderStack, an open-source customer data management platform. Blendo was founded in 2014 and built an integration platform to help businesses transform & move data from their data sources to databases. Deal terms were not disclosed. Techcrunch has the story here.
Velocity Partners turned 2 years old and celebrated with an infographic with their story so far. Key highlights are: 1 exit to TIER Mobility, 16 investments and €7.2M total invested amount.
The Greek teams Crowdpolicy, Compellio and Parity Platform have made it to the top 10 of the Digital Innovation Challenge, a startup competition by EU Commission.
WelcomePickups launched GoSafe, a new service to travel safely in Athens. The service will be live soon in Thessaloniki, Barcelona and Paris.
AgroApps, an agriculture tech startup based in Thessaloniki and founded in 2015, received €1.2M funding from Space Hellas.
A new government-led project called Elevate Greece aims to support the domestic startup ecosystem, create a directory with all relevant players and much more. This is a much needed initiative, and can hopefully help in many fronts from networking & collaboration to investments, government support & legislations. You can find more details here.
New funding schemes are in the making from the Greek government for startups, including a €100M loan distributed through the Hellenic Development Bank and significant tax benefits for angel investors. Here are two links with more information: link1, link2.
Invest Europe published a report with the venture capital activity in European countries in 2019. Greece is behind the European average in investments as % of GDP in terms of portfolio company location and private equity firm location. Nevertheless, the growth in 2019 was significant for the latter. Something to note here is that this report takes into account the portfolio company headquarters and not necessarily where activity happens.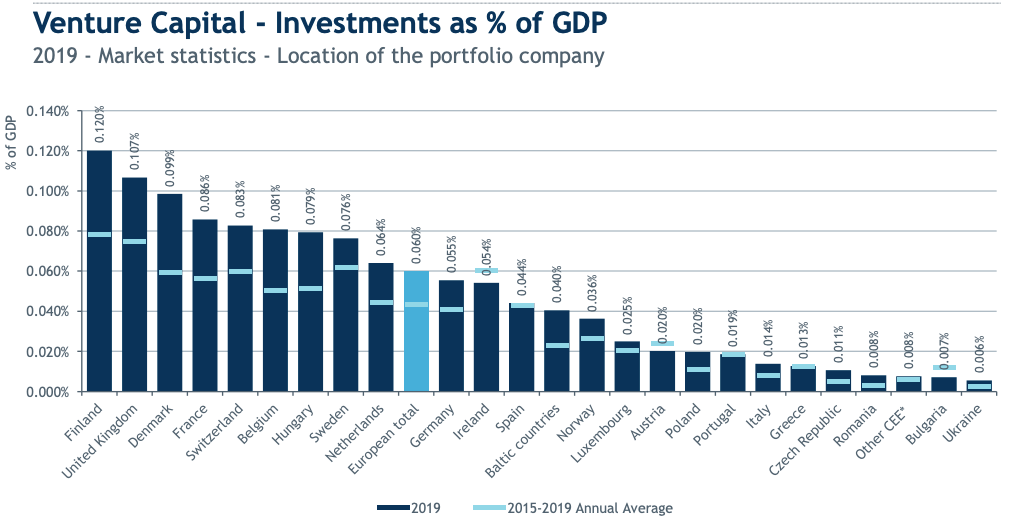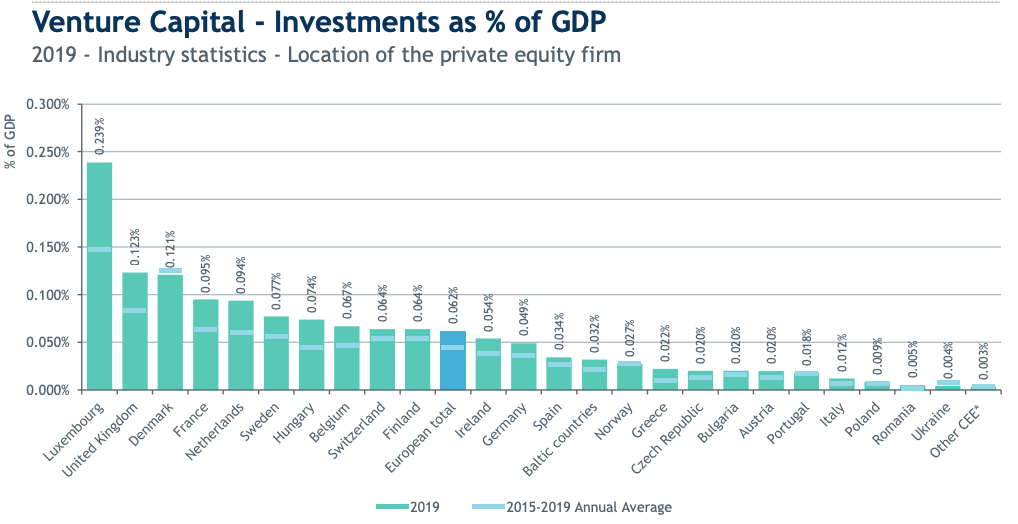 ---
💭 Reading or listening
Endeavor hosted a webinar with Kevin Ryan, a serial entrepreneur and investor (also invested in Blueground), where he talked about lessons learnt from past crises, hiring, fundraising and more.
A post by Vassilis Papakonstantinou from MIT Enterprise Forum Greece around the idea of making Greece a hub for digital nomads. Although not the only parameter in play, being more COVID safe than many places in Europe, could be a big plus to attract remote workers as national borders are opening up.
Costas Tsaousis, founder and CEO of Netdata, discussed about the company, product and his journey so far at FLOSS Weekly.
A post by Can Duruk on the side-effects the acceleration of remote work might bring, from commodification of tech work to less collective action by employees, and lower salaries in the long run.
M.G. Siegler, General Partner at GV, wrote an article commenting on the leadership side of Michael Jordan presented during the documentary "The Last Dance" and argued that we might be taking away the wrong message from it.
I worry there's a generation of athletes or entrepreneurs or leaders that believe in the great asshole fallacy. That the only way to lead is to do so by fear. When the reality is that far more people who try to lead this way fail miserably and leave the 'great' part of the fallacy behind.
Really enjoyed this short write-up on stillness by Ryan Holiday, bestselling author of several books on Stoicism. Some good food for thought on busyness, restlessness and modern life.
We invent problems. We busy ourselves. We neglect our families. We flee, as Seneca once put it, from ourselves. Then we justify it, pride ourselves on it, point to our restlessness and call it ambition or responsibility.
A man convicted of drug-trafficking offences has been sentenced to death in Singapore via a Zoom video-call. I guess Zoom has a new use case now? 😅 You can see the story here.
---
I'd love to get your thoughts and feedback on Twitter.
Stay safe and sane,
Greek Startup Pirate 👋