Discover more from Startup Pirate by Alex Alexakis
Join 5,000+ readers to explore what matters in tech and startups. Made in Greece.
Over 5,000 subscribers
Hunting Greek Unicorns #3
226 jobs from 64 startups, Think Silicon exit, a $20M funding round and more
I hope this email finds you in good health. Welcome to Hunting Greek Unicorns #3. I'm a startup guy based out of Greece, and every two weeks I share news, jobs and more from the Greek startup ecosystem, and not only.
If you find this newsletter interesting, consider sharing with your friends or subscribing if you aren't already.
---
🦄 226 jobs from 64 startups
This week I decided to focus mostly on Greek startups hiring right now. The reason is twofold. First, many companies are growing fast (especially those in industries "positively" affected by the COVID-19 outbreak) and need great talent to take it to the next level. Second, there is an increasing number of jobseekers out there, some affected by the recent layoffs and others looking to join a growing sector.
Started with a tweet last Saturday and adding more jobs and startups after getting feedback, I ended up with a list of 226 jobs from 64 startups across 6 cities and some remote opportunities.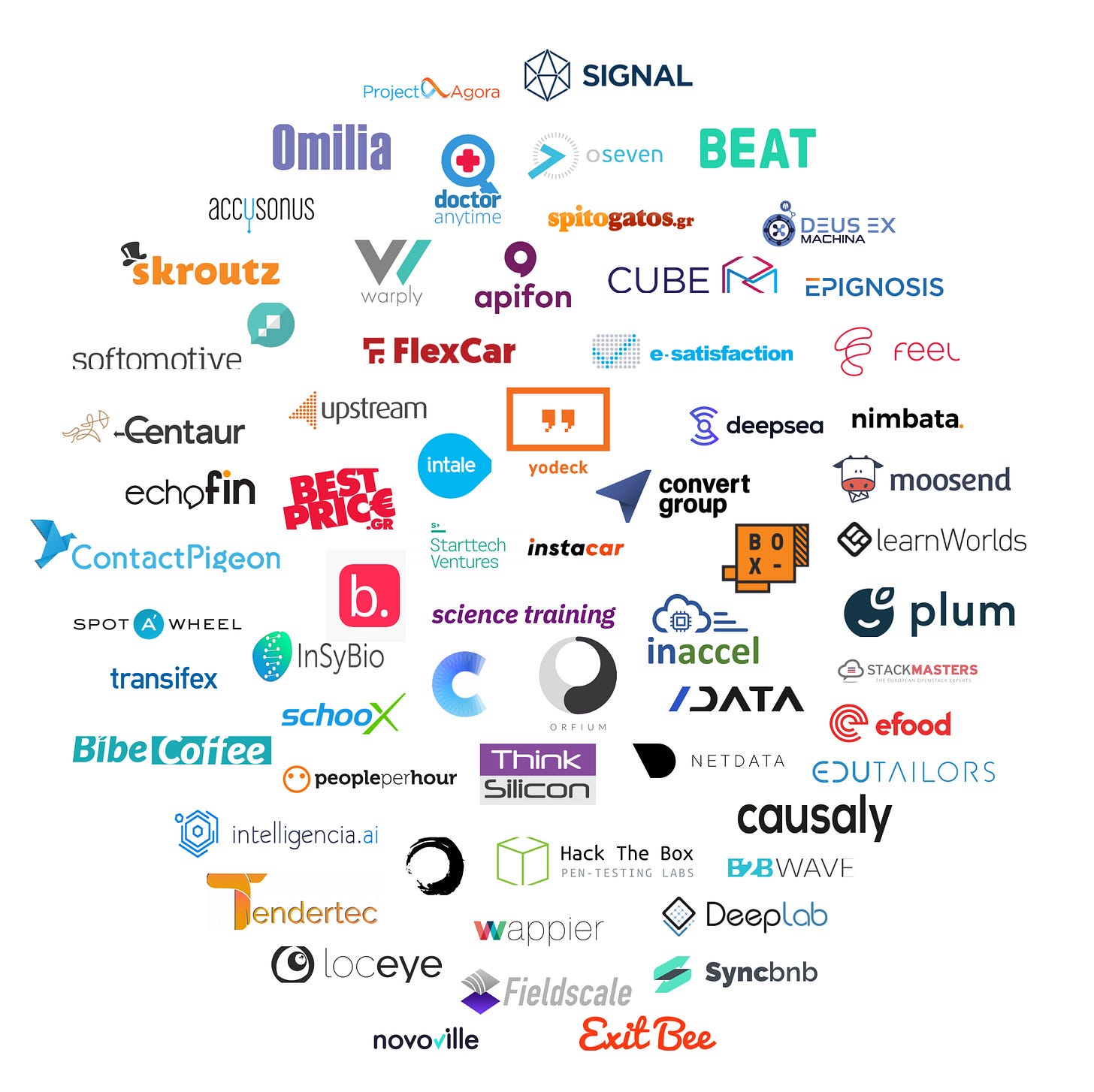 👉 You can find the detailed list with 226 jobs here
Although the percentage of remote jobs in the list is low (about 8%), I'm expecting this to change in the next months. Some companies have already announced they will permanently move to remote work and I believe more will follow as the landscape is shifting fast in the post COVID-19 era.
---
🗞️ News
Greek startups making waves! Some really exciting news went out the past couple weeks. An exit to a NASDAQ company, a possible exit to Microsoft and a $20M funding round.
Think Silicon was acquired by Applied Materials, a NASDAQ publicly traded company in the materials engineering industry. Another deep tech startup with global impact coming out of Patras; this is certainly a significant boost for the local ecosystem.
Softomotive is in talks with Microsoft for an acquisition. The terms being discussed are not disclosed. Although the deal is not confirmed yet, still it's big news and well deserved for a team that has been around for quite some time and is currently growing super fast.
Omilia raised $20M in its first ever funding round, having been bootstrapped since 2002. The company, headquartered in Cyprus with offices in Greece, has built a conversational AI tool for customer support.
Greek VC fund, Metavallon, invested in CreatorUp. The LA-based company is venturing in the digital video creation space and was founded in 2013.
The Fortune's 40 under 40 list of this year was out the past days with some familiar names for the Greek startup community. You can check it out here.
Workable laid off about 9% of its team (mostly sales) and moved on to significant cost reductions, as the jobs industry is heavily affected by the crisis. During an internal meeting Workable CEO, Nikos Moraitakis, also announced that the company will permanently embrace remote work.
---
💭 Reading or listening
Remote work is here to stay! Twitter CEO, Jack Dorsey, emailed employees telling them that they will be allowed to WFH even after the lockdown passes. Nevertheless, remote work is not all roses and unicorns. Amir Salihefendic, CEO of Doist, talks about its "dark" side, after running a remote-first company for years.
Really interesting review by Lenny Rachitsky (ex-product lead & head of consumer supply growth at Airbnb) about the growth strategies followed by consumer apps like Tinder, Uber, Superhuman, TikTok and more to acquire their first 1,000 users.
Elad Gil, a serial entrepreneur and investor/advisor in many Silicon Valley companies, wrote about defensive and offensive moves startups will need to make in order to deal with the current crisis.
George Hadjigeorgiou, co-founder of Skroutz, talks about the company's growth, competing in the food delivery space and building a product for the long-term.
A pretty sober analysis by Erin Bromage around COVID-19 and high-risk infection situations, where people are getting sick and indoor vs outdoor exposures. Erin is an Associate Professor of Biology (specializing in Immunology) at the University of Massachusetts Dartmouth.
Sam Harris and James Clear discuss about habits, how they compound over time, delayed gratification, and more. One quote that stood out:
The cost of your good habits is in the present. The cost of your bad habits is in the future.
Absolutely loved this 40' chat between Naval Ravikant and Kapil Gupta. A must listen for introspection geeks.
---
I'd love to get your thoughts and feedback on Twitter.
Stay safe and sane,
Greek Startup Pirate 👋