Discover more from Startup Pirate by Alex Alexakis
Join 5,000+ readers to explore what matters in tech and startups. Made in Greece.
Over 5,000 subscribers
Hunting Greek Unicorns #2
Startups in growing industries, Skroutz & Deepsea funding rounds, jobs and more
I hope this email finds you in good health. Welcome to Hunting Greek Unicorns #2. I'm a startup guy based out of Greece, and every two weeks I will share news, jobs and more from the Greek startup ecosystem, and not only.
If you find this newsletter interesting, consider sharing with your friends or subscribing if you aren't already.
---
📈 Startups in Growing Industries Post COVID-19 Outbreak
At the moment, many Greek startups are fighting for survival and will continue to do so in the next months. Nevertheless, there are a few industries that are not only not shrinking due to the pandemic and its consequences, but also growing. The below chart from Dealroom gives some insights on which are these industries based on the average share price change since the start of the pandemic.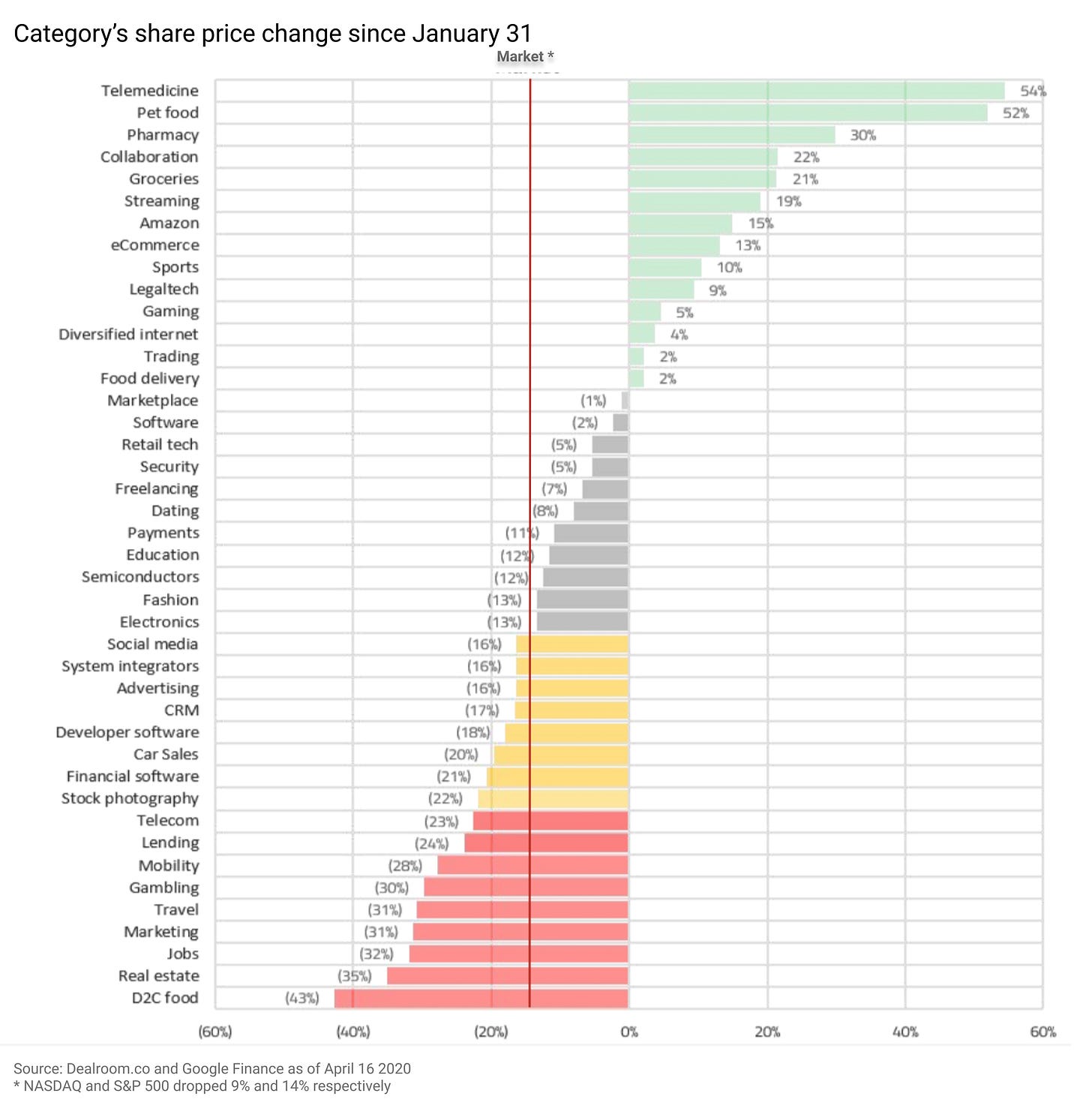 So I wanted to further explore which are some of the Greek startups operating in high growth categories. Although not in the list above, I also added eLearning as a category, after hearing that two of the most prominent startups in the space currently have by far their highest revenue months ever according to Panos Siozos (LearnWorlds) during the Greeks in Tech event and Dimitris Tsingos (Epignosis) on Twitter.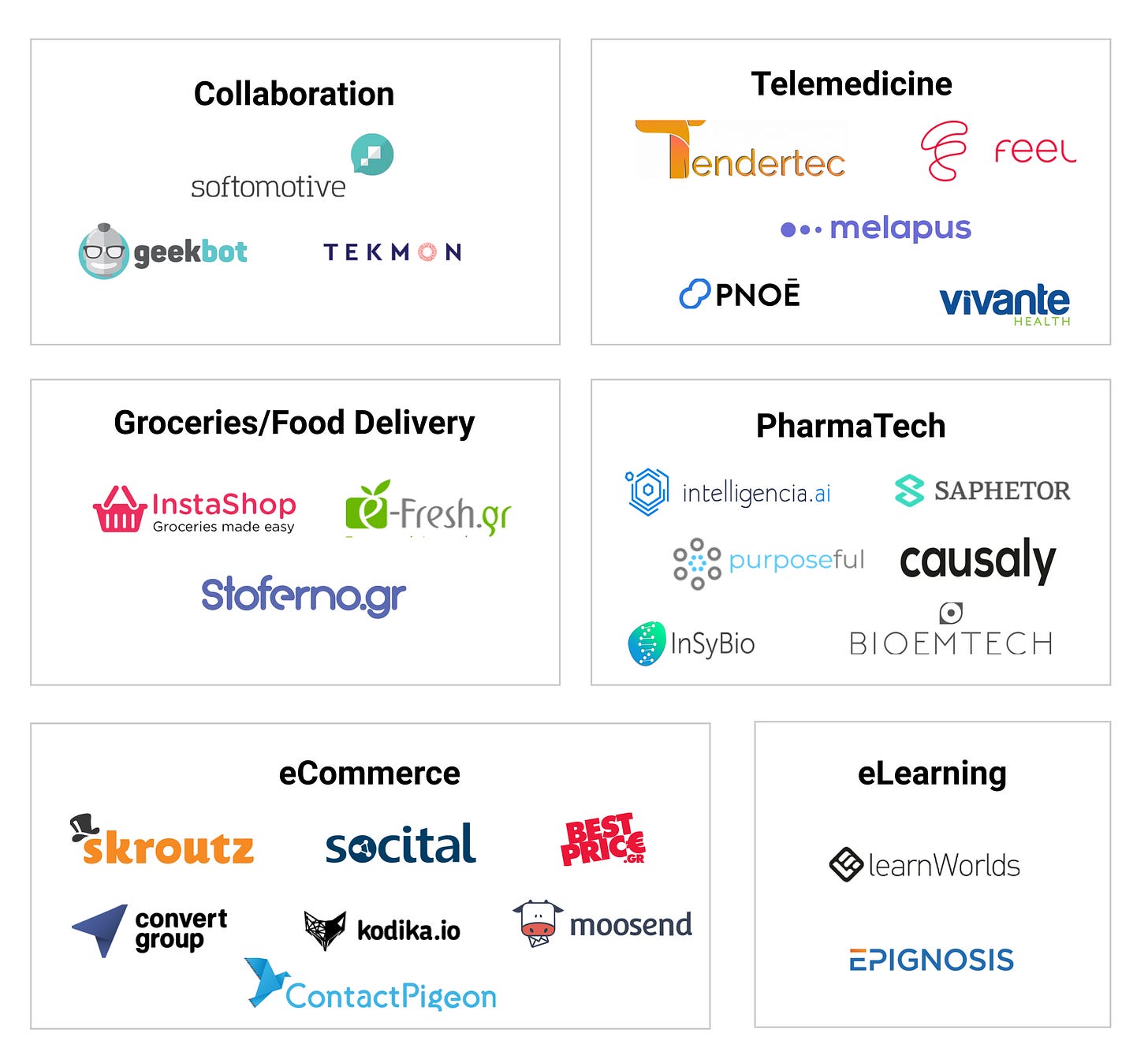 No funding and office information are publicly available for a few of them, so these were left blank on purpose.
---
🦄 Startup Jobs
Greek startups are still hiring! Here are some of the latest job opportunities:
ContactPigeon - Social Media & Community Engagement Specialist (Athens) - Apply here
Deepsea Technologies - Software Architect (Athens) - Apply here
Epignosis - Customer Success Associate (Athens) - Apply here
Moosend - Senior .NET Developer (Athens) - Apply here
Orfium - Business Intelligence Analyst (Athens) - Apply here
Schoox - Software QA Engineer (Thessaloniki) - Apply here
Seafair - Head of Engineering (Athens) - Apply here
SlashData - Growth Executive (Athens) - Apply here
---
🗞️
News
Balena is a member of the Fold for COVID project, which aims to facilitate donations of spare compute capacity to support COVID-19 research.
Blueground announced an initiative to donate stays at 100 apartments across its markets to support healthcare workers and local communities.
Box.gr, the food delivery business - part of OTE group, is considering an expansion into groceries delivery, amidst a surge in demand for such services post COVID-19 outbreak.
Deepsea Technologies raised €3M from London's ETF Partners to develop a logistics platform for the maritime industry. The startup was founded in 2017 by a pair of Oxbridge graduates, Konstantinos Kyriakopoulos and Roberto Coustas.
Novoville was selected by public institutions to create a digital solution to support the fight against COVID-19 in the UK. The project is about an app to fast track volunteers into clinical and non-clinical roles.
Orfium, a startup in the digital content and music industry, is the latest member of Endeavor Greece, a network that supports entrepreneurs with operations, growth and fundraising.
Skroutz has received an undisclosed investment amount from CVC Capital Partners to further fuel the company's growth and R&D.
Two very interesting discussions took place with prominent members of the Greek startup ecosystem: "Greeks in Tech Live" and "Rethink: Raising Capital in the Midst of a Global Crisis". The former was a live facebook event hosted by George Tziralis, Panos Papadopoulos and Niko Bonatsos where Greek entrepreneurs across the world shared useful insights and presented their business ventures, while the latter was a round table discussion moderated by Panagiotis Karampinis with focus on how global VCs are reacting to the crisis and what are the key factors entrepreneurs should consider as they readjust their fundraising plans.
---
💭 Reading or listening
Marc Andreessen wrote a call to arms to build something meaningful. A really inspiring article, which was received both by excitement and criticism. One of my favourite commentaries, which is worth reading, was by Ben Thompson on Stratechery. On a similar note, I found inspiring this post by Mike Maples.
John Luttig discussed about why he thinks the internet tailwinds that propelled Silicon Valley's meteoric growth for decades are stalling out and why new $100B outcomes are less likely to come from pure Internet companies. It's quite well articulated and includes many valid points.
Crunchbase published a report with useful insights from Layoffs.fyi, a website that tracks the lists of layoffs, focused mostly in the US.
As most of the world is trying to predict what's coming next, this post aims to map patterns from the past into the present. Talks about proof of health, trust, UBI, localism, and more trends that we might see in the next years.
This is old but gold. Marty Cagan wrote about the difference between product and feature teams. A food for thought for the way our teams operate, how to empower them & what's the true role of the engineers, product designers, product managers.
The legendary Kevin Kelly turned 68 and shared 68 bits of life advice.
---
I'd love to get your thoughts and feedback on Twitter.
Stay safe and sane,
Greek Startup Pirate 👋