Discover more from Startup Pirate by Alex Alexakis
Join 5,000+ readers to explore what matters in tech and startups. Made in Greece.
Over 5,000 subscribers
Hunting Greek Unicorns #15
Building a deep tech startup in the music industry, 281 jobs from 53 companies, news and more
I hope this email finds you well. Welcome to Hunting Greek Unicorns #15. I'm a startup guy based out of Greece, and every two weeks I will share news, jobs and more from the Greek startup ecosystem, and not only.
If you find this newsletter interesting, consider sharing with your friends or subscribing if you haven't already.
---
🎙️
Building a deep tech startup in the music industry: A fireside chat with Michael Petychakis
This week, I'm excited to chat with Michael Petychakis, CTO of Orfium, a music management platform and monetization service for music producers, publishers and record companies. The startup is already making waves at a global level working with companies such as Warner Music Group, Sony Music Entertainment, Red Bull Records and more.
It wasn't always unicorns and roses though and this is what I like in particular about this team, the grit and resilience they showed in the first years, pivoting through different ideas until they reached product-market fit. Equally interesting is how technology is the main driver behind the company. Through data engineering, they can maintain a complete and accurate catalogue and platform data, essential to identifying online copyright violations and maximizing royalty collections across services such as YouTube and Facebook. The team is growing fast with teams in Los Angeles and Athens and over 60 new hires since March.
I was curious to discuss with Michael in more detail about:
their journey so far and pivoting from a music streaming service

building a deep tech startup in the music industry

lessons learnt building a team with 80 engineers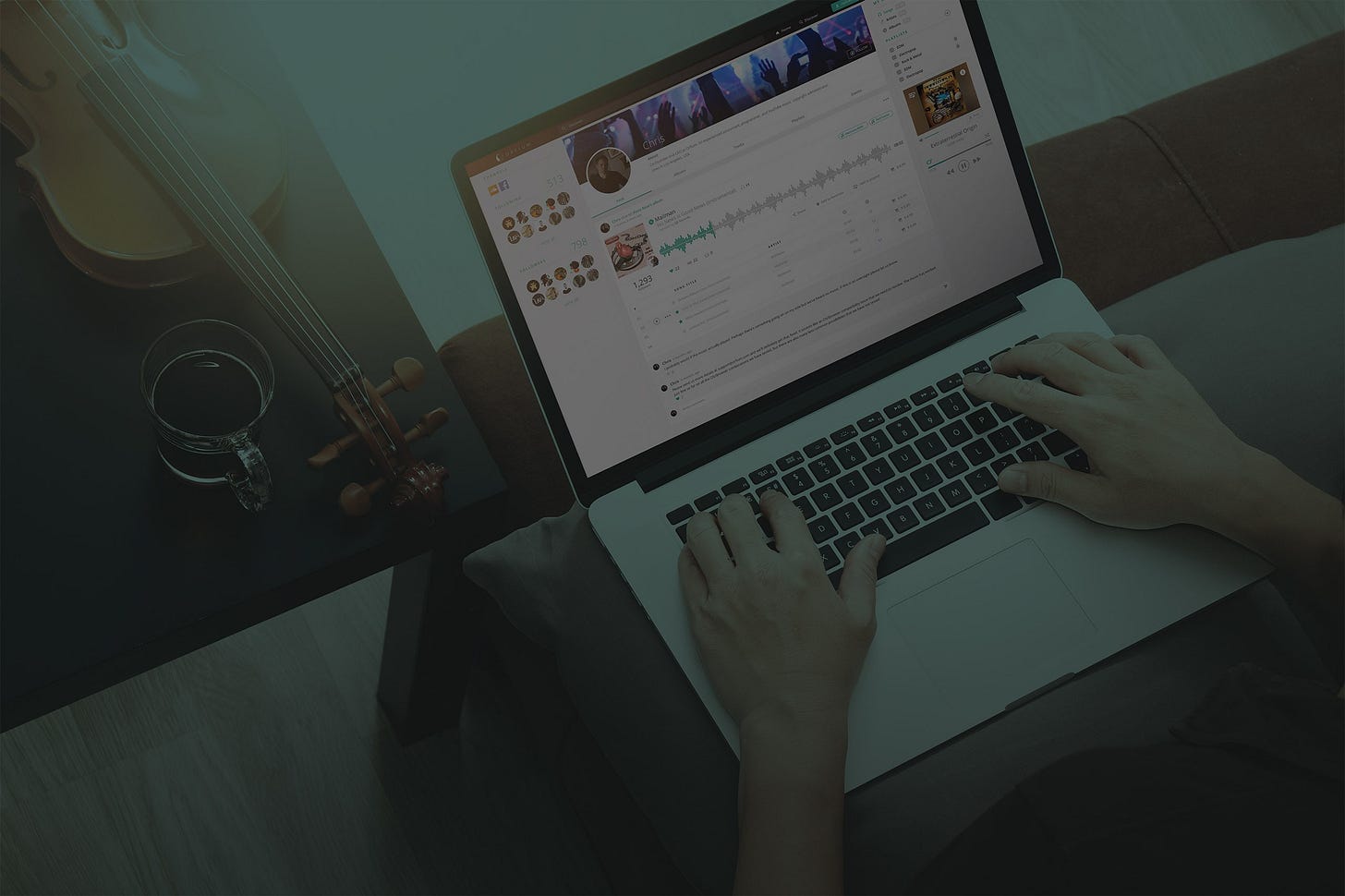 Back in 2015, you started with Drew Delis, Chris Mohoney and Dimitris Papaspyros as a platform to empower indie artists promote their music, essentially going against big names such as Spotify, Soundcloud and Apple Music.
Indeed, starting off in 2015, we were four ambitious young guys that wanted to re-invent the music industry through a platform where artists could upload their tracks for the audience to hear and purchase. I'd say our initial approach to go directly against some of the biggest tech platforms of the time was kind of naive :) Due to our limited budget, we were always working on optimizations, being cloud-first, using the latest technologies to achieve maximum scalability with the minimum cost. So, we managed to create a team that loved to work together and produce technology, and this is the core thing that has brought us here today. We didn't have any impressive business successes during our first two years, but that initial journey led us to Rob Wells and this was a match made in heaven! Rob knew the industry and helped us pivot, understand the pain points of the music companies and from then on we started focusing on solving real problems.
Let's deep dive a bit more on the product and technology behind it. What makes Orfium a deep tech company?
Orfium offers technology solutions to the music industry. Our goal is to understand the data problems of the space and offer innovative solutions. Music is a universal product. Whatever you produce in Greece can be distributed and listened in every part of the world, in every moment and various formats. Therefore, the complexity of tracking and processing it, as well as creating reports and analytics is enormous. We need all the tools that the latest technology advancements can offer in order to accommodate these needs at a level that has never been dealt with before.
Essentially, we're a data-driven company. We deal everyday with huge volumes of music data. Imagine that the compressed data of just one of our customers could be something like 40TB. In order to analyze such volumes, we follow a hybrid human and machine learning approach retraining and validating our algorithms all the time using a team of data annotators. Hence, we have a culture of training everyone in the company to understand not only the music industry but also technology.
At Orfium, we face any challenge as a new opportunity to create products and explore data. The music industry shares many aspects similar to other industries that have already been largely digitized and so we try to be equally brave and innovate. It's part of our culture to always experiment with new approaches, train ourselves to the latest technologies, being part of the local technology ecosystems, and make sure we always create the best possible products to address our customers' problems.
If you could pick three lessons learnt throughout the past five years building an engineering team from 0 to 80, what would these be?
Our journey has been extremely challenging. Personally, I didn't have any previous experience or official training on growing and managing teams (those are two separate things). If I had to pick only three lessons learnt (out of the millions I probably have), those would be:
Seek mentors: I obviously wouldn't be here without the help of experienced people that took the time to support me throughout every stage of our transformation.

Hire only the best, hire people that are smarter than you. They say it's a blessing when you feel you're the dumbest person in a room, and indeed with the team we have built at Orfium, I'm really proud to work with some super smart individuals, each on his/her own field.

Trust and empower your team. We work in an extremely competitive environment. Each day brings a new challenge. If you can't trust your team to work with their best intentions, then all the processes in the world won't help much. The leaders should trust their teams and all together work in harmony to accomplish the company's vision.
What do you see as the future of monetization and royalties in the music industry, and where does Orfium fit in this future?
The music industry has done an amazing sprint in the last few years where it saw its revenues grow back to its maximum (early 2000), but this year was obviously very hard. Keep in mind that one third of the industry's total revenues comes from live performances. Yet, it's a fact that digital revenues coming from platforms such as Spotify, Youtube, Apple Music, etc are becoming more and more essential and this is where the main focus is. The industry is expected to double in revenues in the next decade, mainly with China and India growing their consumer basis and most of it will come from digital sources. So if we take into consideration how complex the problem of tracking, attributing, and collecting royalties is today, our space is going to accelerate even more in the years to come. Orfium will be there to support this growth, becoming the industry's digital infrastructure. We aim to become the SaaS for the music companies, increase the transparency around how monetization flows and make attribution even more accurate. All of these, having technology at the core.
If you want to learn more about Orfium and how the team is redesigning music rights management & monetization, check out their website or get in touch with Michael on Twitter.
---
🦄  Startup Jobs
Greek startups are hiring! Here are some of the latest job opportunities:
BIOPIX-T - Software Engineer (Heraklion) - Apply here
Blueground - Business Development Manager (Athens) - Apply here
DeepSea - Service Support Engineer (Athens) - Apply here
FlexCar - (Senior) Associate - Deal Structuring (Athens) - Apply here
Intelistyle - Full Stack Developer / Software Engineer (Remote) - Apply here
LearnWorlds - Product Marketing Manager (Remote) - Apply here
Schoox - iOS Engineer (Thessaloniki) - Apply here
Signal Ocean - Senior Software Engineer, Python (Athens) - Apply here
Skroutz - Senior UI/UX Designer (Athens) - Apply here
Vimachem - Senior Front-End Developer (Athens) - Apply here
👉 For more open roles check out the job board here, with 281 jobs from 53 companies.
---
🗞️ News
First weeks after the launch of Elevate Greece, the platform for Greek startups from the Ministry of Development and Investment, and there is already an increased interest to register according to this post.
Endeavor Greece launches the Endeavor Scale-up program, to support startups founded by Greek entrepreneurs in Seed or Series A funding phase. The program runs for about 6-18 months.
Microsoft's first data center in Greece, which is part of its latest "GR for GRowth" initiative, will be installed in the city of Lavrio according to this article. Nothing seems to be confirmed though either from the company or the government.
Bota Systems, a robotics spin-off of ETH Zurich with Greek co-founder and team, won CHF 150,000 for enabling robots to better interact with humans.
The call for applications is now open until November 15 for EIT Health's RIS Innovation Call 2021, a program by the European Institute of Innovation and Technology, to support innovative startups in the healthcare space.
Citrion, a team from University of Athens with a solution to the nuisance caused by bitter oranges in Athens, won the Bio-based Innovation Student Challenge Europe, an annual competition between university students.
CSS background patterns, a new free tool launched by indie maker Jim Raptis, landed on the #2 Product of the day on Product Hunt.
Airbots, a robotics startup in the precision agriculture space, named a Rising Star in the European Business Awards for the Environment.
MarineTraffic featured in a list with interesting companies in the data & AI landscape for 2020 under the "data source & APIs" category. The list was created by Matt Turck, VC at FirstMark.
Finquest by Alpha Bank, a fintech accelerator for startups announced the teams that made it to the accelerator this year: Dobe, Finloup, Finqware, Omnio, Riskturn, SentiGeek, Wealthyhood.
The 15 teams of the 12th cycle of the OK!Thess acceleration program have been announced with participants coming from several fields including healthcare, tourism, agriculture, meditation, 3D printing and more.
---
💭 Reading or listening
An update on the VC side of the ecosystem with new funds, including one for 5G tech, one for business angels and existing funds raising new capital to continue operations.
An interview with Apostolos Apostolakis, Partner at VentureFriends, discussing about startups and venture capital in Greece. Apostolos also shared that the team is currently raising its third fund with start date in Q1 2021.
Petros Amiridis, co-founder & CEO of HeavyMelon, wrote a post on programming job postings and why some of them are quite unrealistic.
George Tsifrikas, iOS Team Lead at Workable, talking about the company's product teams structure, internal workflows, testing strategy, feature flags and more.
A twitter thread with some of the Greek startups acquisitions that took place the past years and what is the current status of each team.
A talk by Marco Veremis, General Partner at Big Pi Ventures, on the relationship between success and failure, being open-minded, the amazing progress the Greek tech ecosystem has made the past 10 years and eudaimonia.
The 2021 industry guide for the Greek tech ecosystem by The Port is out with an overview of the ecosystem's leading startups, stakeholders, and accomplishments.
A technical dive from the Skroutz engineering team on what it took them to deliver a faster experience on their website.
Zaharenia Atzitzikaki, VP Design at Workable, published her latest newsletter update around onboarding remote team members, a situation faced by more & more organisations lately.
A report by Slashdata, which surveyed over 17K developers globally for its 19th "State of the Developer Nation", measuring the sizes of different programming languages communities.
A post by Caterina Kostoula, Executive & Team Coach, on three simple strategies to reconnect with yourself and develop as a leader.
George Zachary, General Partner at CRV, discussed with Harry Stebbings, investor & creator of The Twenty Minute VC podcast, about why he believes one should invest in founders who do not need their investors help, why the best founders have experienced some form of parental instability, where many young board members make mistakes and much more.
Thoughts on the internal mechanics of the publishing industry & the forces that defined the industry's response to Google & Facebook by Markos Tsirekas, co-founder & CEO of Timewith.
---
I'd love to get your thoughts and feedback on Twitter or Facebook.
Stay safe and sane,
Greek Startup Pirate 👋