Discover more from Startup Pirate by Alex Alexakis
Join 5,000+ readers to explore what matters in tech and startups. Made in Greece.
Over 5,000 subscribers
Hunting Greek Unicorns #14
A job board for Greek startups, acceleration of remote learning, Microsoft investment, Elevate Greece, news, and more
I hope this email finds you well. Welcome to Hunting Greek Unicorns #14. I'm a startup guy based out of Greece, and every two weeks I will share news, jobs and more from the Greek startup ecosystem, and not only.
If you find this newsletter interesting, consider sharing with your friends or subscribing if you haven't already.
---
🛠️ The job board for Greek startups is live
Totally stoked to finally launch a job board for Greek startups! What started as a Google Sheets list back in April, which was updated monthly with job opportunities, is now a proper job board. The v1 is out and more jobs and product improvements are coming out soon.
---
📖 Greek startups and the acceleration of remote learning
EdTech and eLearning are two areas that have evolved to have a growing impact on our lives in 2020. They have been shoved into the spotlight as millions shifted to remote learning due to pandemic-related shutdowns. I was intrigued to explore the industry further, after it was reported that several Greek companies are doing exceptionally well lately, experiencing crazy-high growth. From online school builders to VR medical training and educational games for kids to employee training platforms, there is an increased interest in the space with many exciting products.
Below, you can find a list with 14 EdTech & eLearning startups.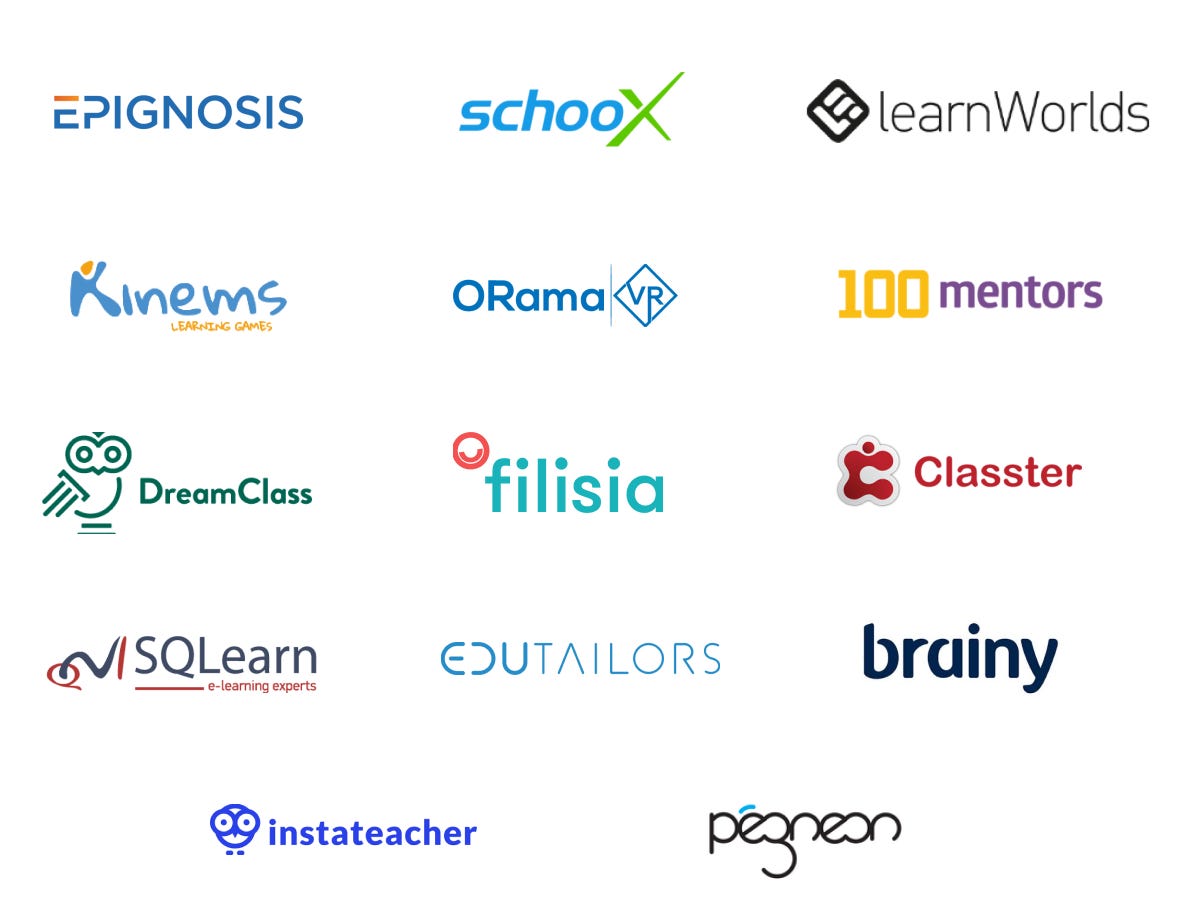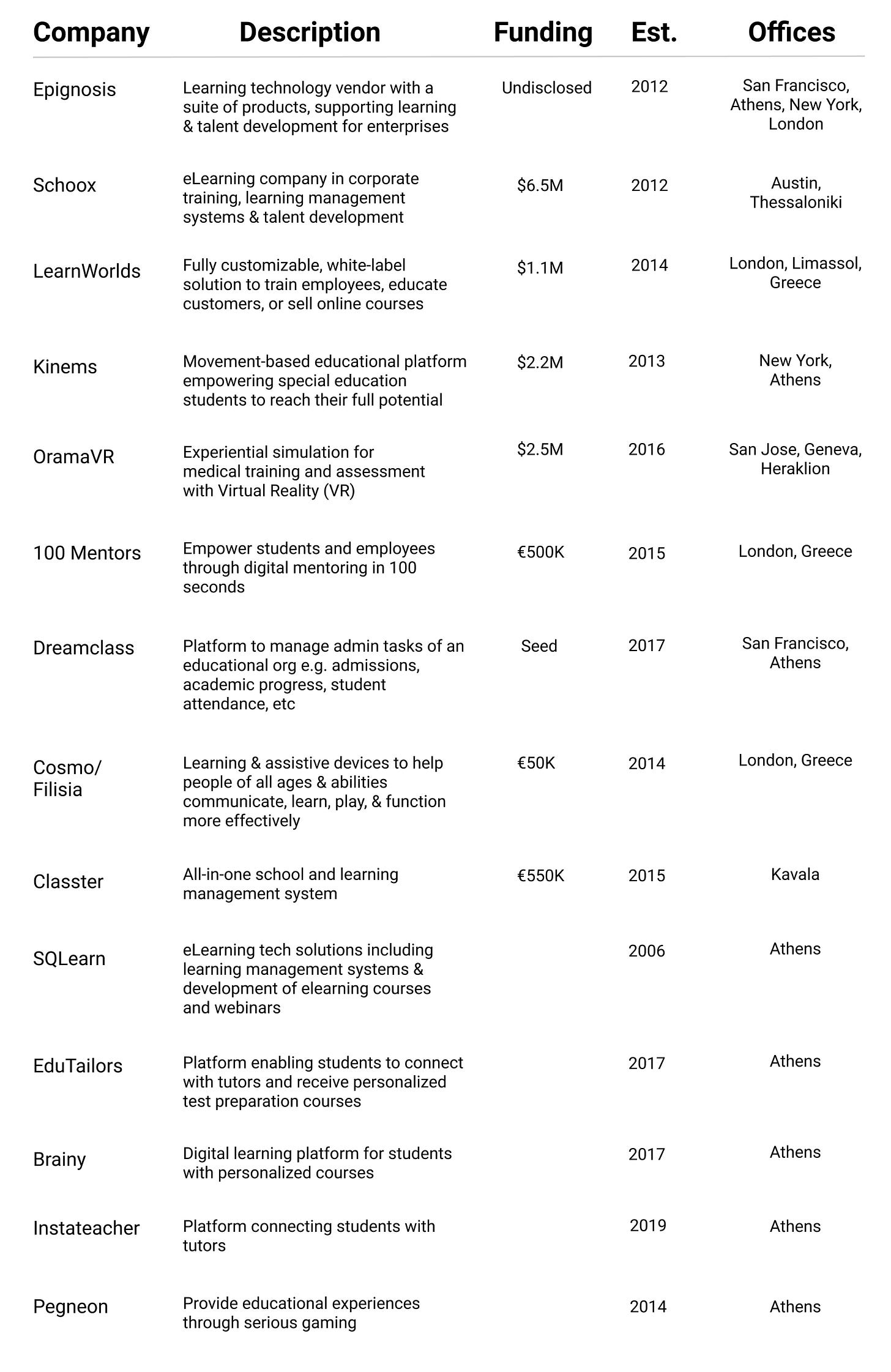 Disclaimer: The list is by no means exhaustive. Funding information was gathered from public online sources and for companies that haven't publicly disclosed their funding amount or are bootstrapped the equivalent field is blank.
---
🦄  Startup Jobs
Greek startups are hiring! Here are some of the latest job opportunities:
Coinomi - Backend / Systems Developer (Remote) - Apply here
ContactPigeon - Customer Success Consultant (Athens) - Apply here
Cube - Senior Machine Learning Engineer (Athens) - Apply here
DEUS EX MACHINA - Data Visualization Engineer (Athens, Thessaloniki) - Apply here
Hack The Box - Backend Engineer (Athens) - Apply here
InstaShop - Desktop Application Developer (Thessaloniki) - Apply here
MarineTraffic - Front-End Engineer (Athens) - Apply here
Metavallon - Associate (Athens) - Apply here
Metrika - Senior SRE DevOps (Remote) - Apply here
Rotki - Backend Developer (Remote) - Apply here
Space Talos - Material Growth Expert (Remote) - Apply here
Workathlon - Director of Operations (Mykonos) - Apply here
If you're looking for more open roles check out the job board here.
---
🗞️ News
Microsoft to make a big investment in Greece for the establishment of its new activities in Europe. As part of its "GR for GRowth" initiative, the company will build new datacenters, establishing a Microsoft Cloud region in the country. They also announced a skilling program to train approximately 100K people in digital technologies by 2025, along with more projects as part of this initiative.
Elevate Greece, a platform for Greek startups from the Ministry of Development and Investment, is now live. You can check it out here.
Some consolidation in the food delivery space. Starting from next month, Skroutz Food users and stores will be onboarded on the BOX platform, the food delivery app by COSMOTE. BOX is also planning to enter the groceries delivery space soon. Read the story here.
Lenses highlighted in the Accel Euroscape list with the top 100 EU & Israel cloud companies with revenues above $1M and valued less than $1B.
Plum was one of the winners of Nesta's Open Up 2020 competition to empower innovative open banking-enabled solutions. The team won a a £200,000 prize grant.
Ocado Group, the UK company listed on the London Stock Exchange, acquired a minority stake in Myrmex, a robotics startup headquartered in California with R&D in Greece.
VentureFriends invested in Tymit, a fintech company re-designing the credit card experience.
Better Origin, a startup with Greek co-founder based out of Cambridge, working on sustainable methods of farming, was awarded £1.1M from the UK government. The company previously raised a seed funding round led by Metavallon.
PeopleGoal, a bootstrapped SaaS company operating in the HR software market with Greek co-founder based in Bristol, launched on ProductHunt.
Amidst a boom in special purpose acquisition companies (SPACs), we had a Greek startup with offices in Cambridge, MA and Patras, Advent Technologies, announcing its plan to go public through a SPAC.
London-based Numan, a men's health subscription startup, with Greek founder & CEO and part of its team based out of Greece, closed a £10M Series A funding round.
Greentech Challenge 2020, a startup competition run by National Technical University of Athens, is now accepting applications until December 5.
Amazon Web Services is planning to create a branch in Athens as of this January according to an update by Kathimerini.
Cognitiv+, a startup that uses ML to automate knowledge extraction from legal data, joins Tech Nation's Applied AI, a 6-month programme that supports promising AI companies in the UK.
Kickstarter is now open in Greece, for creators who want to launch projects using their local bank account. Here is the official announcement.
---
💭 Reading or listening
Panos Papadopoulos, Partner at Marathon Venture Capital, shared some thoughts around the Microsoft investment in Greece.
Aristos Doxiadis, Partner at Big Pi Ventures, wrote a post on scientific research, innovation and the knowledge-based economy.
Antonis Kalipetis, Senior Software Engineer at eFood / CTO & co-founder at Sourcelair, and Paris Kasidiaris, CEO & co-founder at SourceLair, kickstarted season 2 of their podcast, Mikri Kouventa, with a chat on hiring and recruiting agencies.
An intro to the Lindy effect by Odysseas Lamtzidis, currently leading Developer Relations at Netdata.
Report by Boston Consulting Group on the state of AI tech companies in Greece. Several companies highlighted from startups to large corporates building AI products across different sectors. The report concludes that overall, companies still don't harness its full power, as they could follow a more strategic and structured approach to help them benefit across their value chain.
Are you thinking about quitting your job to join that risky tech startup? A guide to learning, earning & minimizing regret at startups by Garry Tan, Managing Partner at Initialized Capital.
Loved this podcast with Chamath Palihapitiya, founder & CEO at Social Capital, and Shane Parrish, creator of Farnam Street Media. Things they discussed: being an observer of the present, thinking in first principals, the psychology of successful investing and much more.
---
I'd love to get your thoughts and feedback on Twitter or Facebook.
Stay safe and sane,
Greek Startup Pirate 👋