Discover more from Startup Pirate by Alex Alexakis
Join 5,000+ readers to explore what matters in tech and startups. Made in Greece.
Over 5,000 subscribers
Hunting Greek Unicorns #11
Agtech startups, InstaShop $360M exit, 293 jobs from 89 companies, a YC S20 startup, #2 Product of the day and more
I hope this email finds you well. Welcome to Hunting Greek Unicorns #11. I'm a startup guy based out of Greece, and every two weeks I will share news, jobs and more from the Greek startup ecosystem, and not only.
If you find this newsletter interesting, consider sharing with your friends or subscribing if you haven't already.
---
🌱 Startups disrupting agriculture through technology
Farming has been around for thousands of years, nevertheless significant investments and startup activity in agricultural technology have only exploded recently according to CB. VCs invested more than $8B in agtech startups during 2018 & 2019. Based on the $2.6B already invested as of August 2020, this year it is expected to even exceed previous years.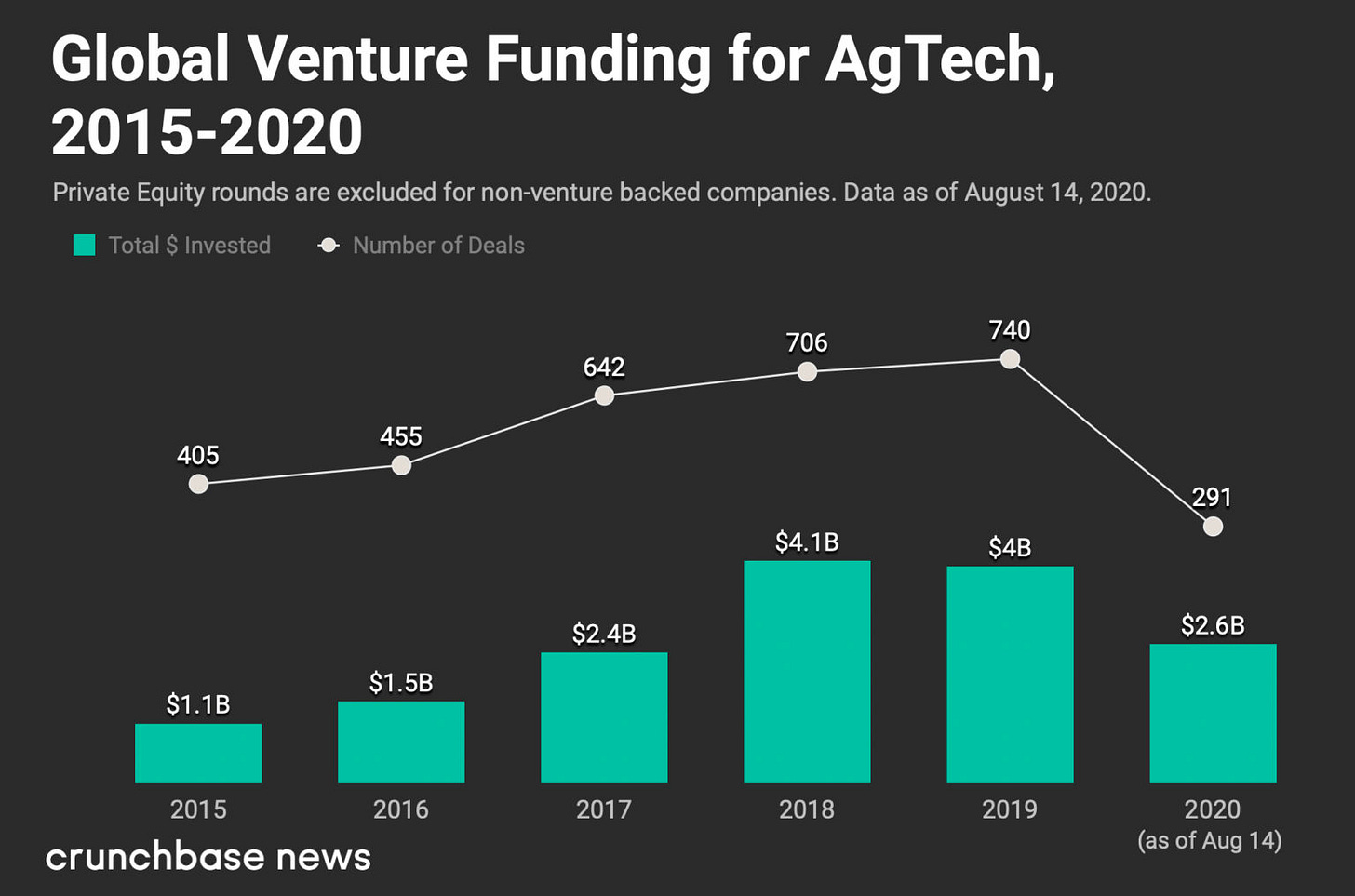 There are more and more companies in Greece innovating in the space, and following the global trend there is also an increasing number that is venture-backed. Below you can find a list of 13 Greek agtech startups working on AI products, IoT, analytics, sustainable farming and other exciting areas.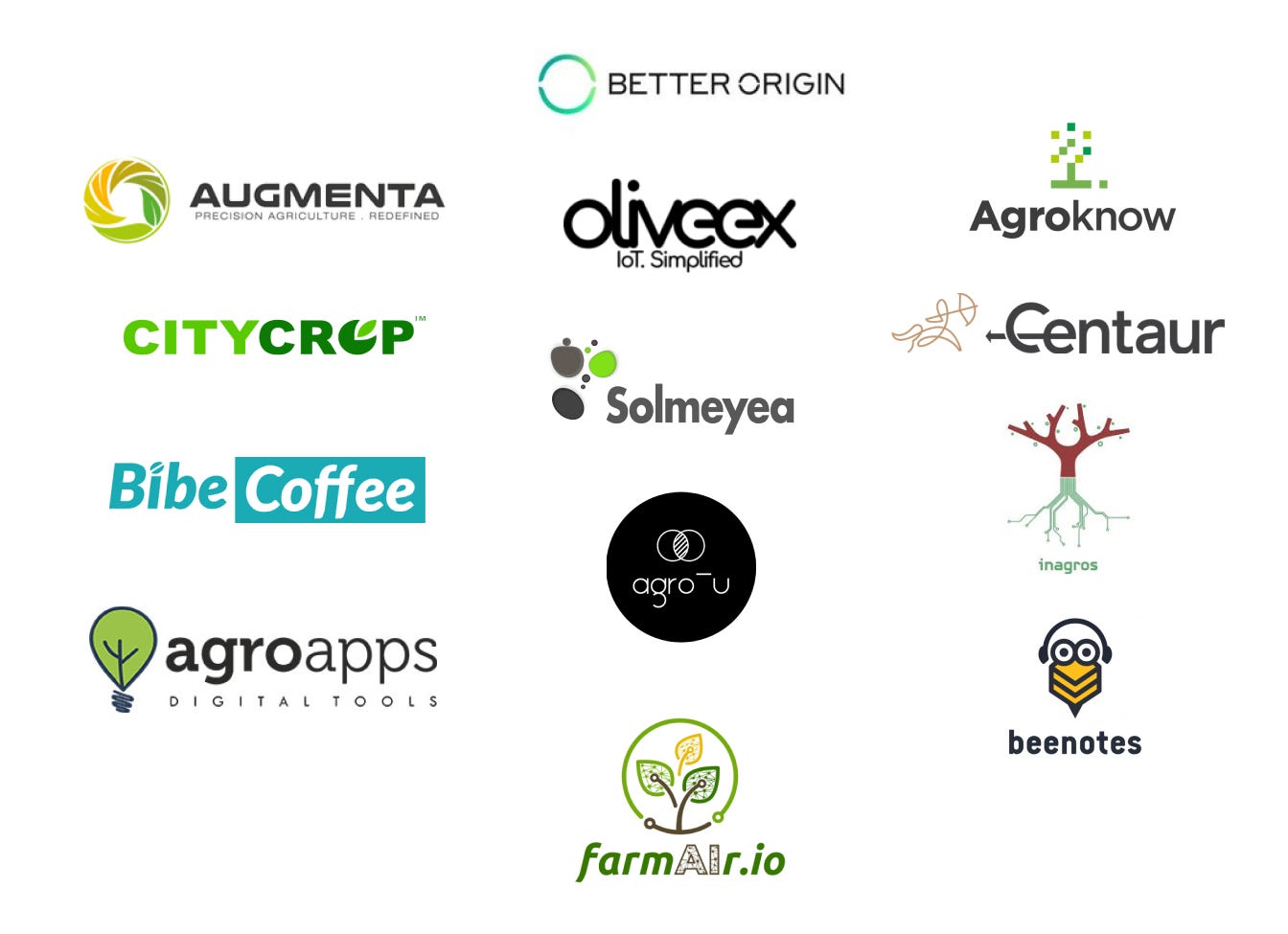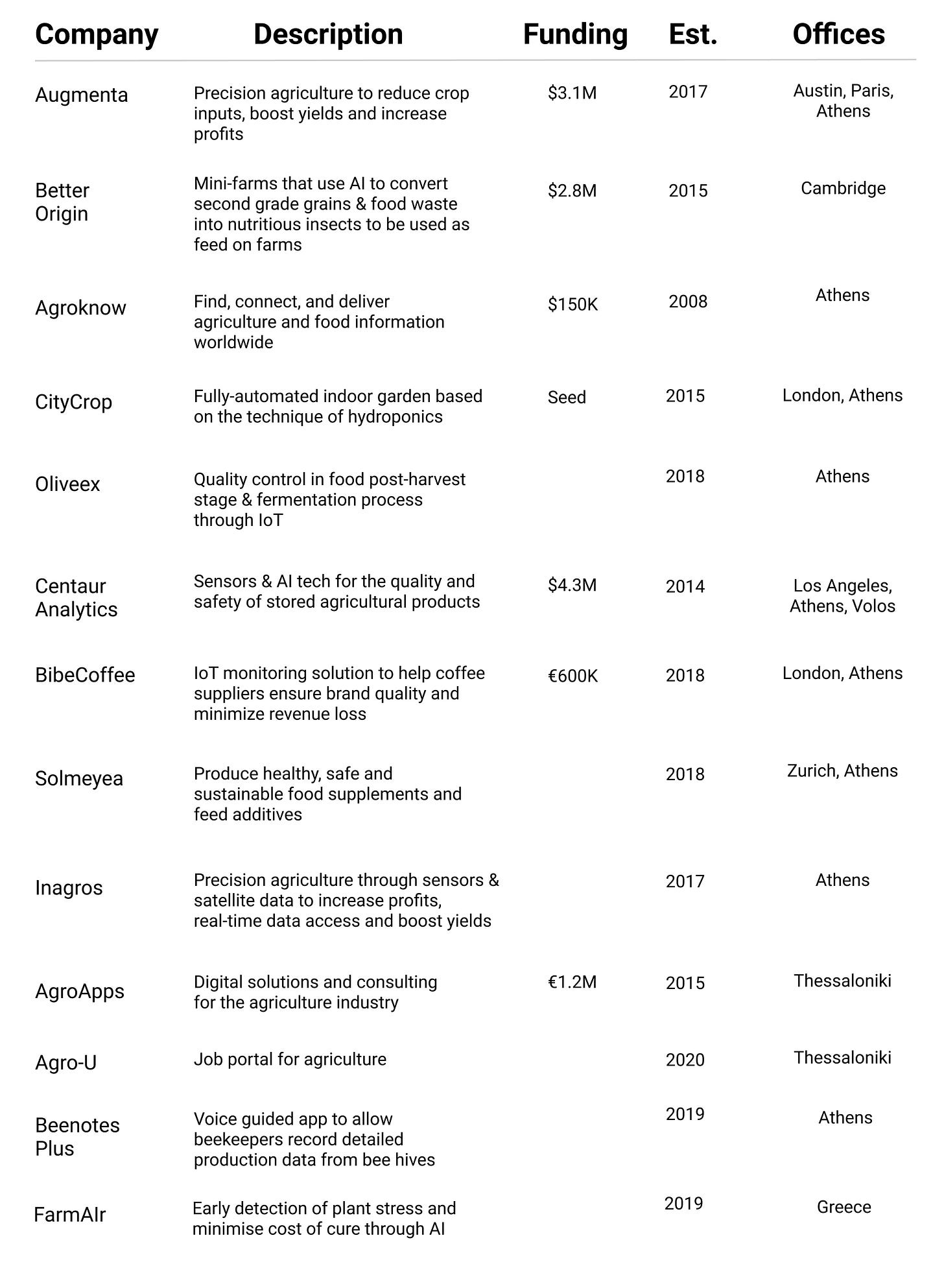 Disclaimer: The list is by no means exhaustive. I haven't added companies with Greek founders, but no operations in the country e.g. offices, team, investors, etc. Funding information was gathered from public online sources and for companies that haven't publicly disclosed their funding amount or are bootstrapped the equivalent field is blank.
---
🦄 293 jobs from 89 startups
Greek startups are hiring! If you're back from vacations and looking for a job, this list is for you. 293 jobs from 89 startups hiring now. Jobs are based in Athens, Patras, Heraklion, Chania, Thessaloniki, Volos and many of them are remote. It's actually the first time I see such a high % of remote opportunities in the list (almost 20%). This was updated on the 24th of August.
👉 You can find the detailed list with 293 jobs here
---
🗞️ News
The past two weeks we had the largest exit ever for a startup with Greek founders and R&D in Greece 🚀 InstaShop, an on-demand grocery business headquartered in Dubai with operations in Middle East and North Africa and R&D based in Greece was acquired by Delivery Hero for $360M! Great news for the team, investors (VentureFriends was a backer) and the Greek ecosystem overall. Here is the story by TechCrunch, the announcement by Delivery Hero and this is a nice video they made with their journey so far.
George Kalligeros, co-founder at Pushme, going public on LinkedIn for the first time about the acquisition by TIER and what the team is currently working on.
News is out that after 9+ years, Nikos Drandakis will no longer be CEO of Beat according to a press release by FREE NOW.
MagicPattern, an editor to help designers easily create unique geometric patterns, launched by solo maker Jim Raptis, landed #2 Product of the day on ProductHunt.
Better Origin, an AI-powered insect mini-farm aiming to revolutionise the food industry, was featured in Forbes as one of the three greentech companies to watch bringing innovation to food waste.
ORamaVR, a VR medical training simulations startup, was part of this year's Epic MegaGrants, a program by Epic Games to accelerate teams working with Unreal Engine, 3D graphics tools & open source software.
New product launch by Transifex with a Figma plugin to help teams move localization earlier in the product design & development process.
Viva Wallet highlighted in the global list of the top 250 fintech companies of 2020 by CB Insights.
Three Greek startups are in the list of STARTUP3 winners, an EU funded competition for deeptech. Magos: Extended Reality, RTsafe: Healthcare, Ingredio: Food/Cosmetics.
Also some updates from London-based teams with Greek co-founders:
Synth (previously OpenQuery) is on the latest batch of YCombinator (YC S20). The tool helps developers to provision test databases with realistic data to test their apps in a fast & easy way. Here is their HackerNews launch.
ZOE, a healthcare/nutrition startup, will receive a £2M grant from the UK government to support data collection for its new project, a COVID-19 symptom study app.
A team from Expedia & JustEat launched Kenza, an open-source machine learning platform for continuous integration & delivery. Their previous project was Sagify, an open-source project for AWS SageMaker.
---
💭 Reading or listening
A report by the European Investment Fund with the current market sentiment in European Private Equity and Venture Capital and how they have been affected by COVID-19.
Thoughts on the chicken & egg problem in marketplaces, why allow other sellers to compete against you on your own platform and Amazon's flywheel model by Babis Makrynikolas, VP Product & Pricing at Blueground.
How to run 1:1 meetings, why they are useful and getting the most out of them. A guide by Zaharenia Atzitzikaki, VP Design at Workable, in her latest newsletter issue.
Some pieces of advice from Georgios Gatos, Chief Revenue Officer at Toggl, on what to do if you lost your job due to COVID-19 and what worked in his case to land a new role.
Antonios Chalkiopoulos, CEO & co-founder at Lenses.io, posted on Forbes about the three steps to strengthen data ethics and why it should matter to your company.
An interview with the ResQ Biotech team, the company that was mentioned by Nature as one of the 44 most exciting companies to emerge from academic labs the past years and also won MIT Enterprise Forum Greece competition 2020.
There is an ongoing discussion around the current state of the stock market and why it is at historic highs in the middle of a pandemic. Ranjan Roy, ex-trader and ex-business manager at Financial Times, laying out a few theories on how the shift to remote work could explain this.
---
I'd love to get your thoughts and feedback on Twitter or Facebook.
Stay safe and sane,
Greek Startup Pirate 👋